This 2.0" TFT LCD is an IPS display Module with IPS panel / Active-Matrix TFTs / Resolution of 240×320 / Contrast ratio of 800:1  / Optional Touchscreen / SPI, RGB, MCU Interface / ST7789V Controller IC / FPC connector.
The high quality, low price product is always our long-term goal.
Technical Details
Download Product References Below
Product Datasheet: GFC320240V1-2.0INTM
| | |
| --- | --- |
| Model / Series Name | GFC320240V1-2.0INTM |
| Diagonal Dimension (Inches) | 2.0 |
| Dots WxH | 240 x 320 |
| Module Size WxHxD (mm) | 34.70 x 47.95 x 2.20 |
| LCD Active Area WxHxD (mm) | 30.60 x 40.80 |
| Display Mode | IPS / Transmissive |
| Viewing Angle | Left: 85 / Right: 85 / Top: 85 / Bottom: 85 degrees; |
| IC | ST7789V |
| Interface Type | 8080-series Parallel MCU, 3/4-wires SPI, 18-bit RGB |
| Logic Power Supply Voltage | 3.0V to 3.6V |
| Backlight | 4 LEDs |
| Luminance | 380 cd/m2 |
| Touch Panel | Optional RTP or CTP |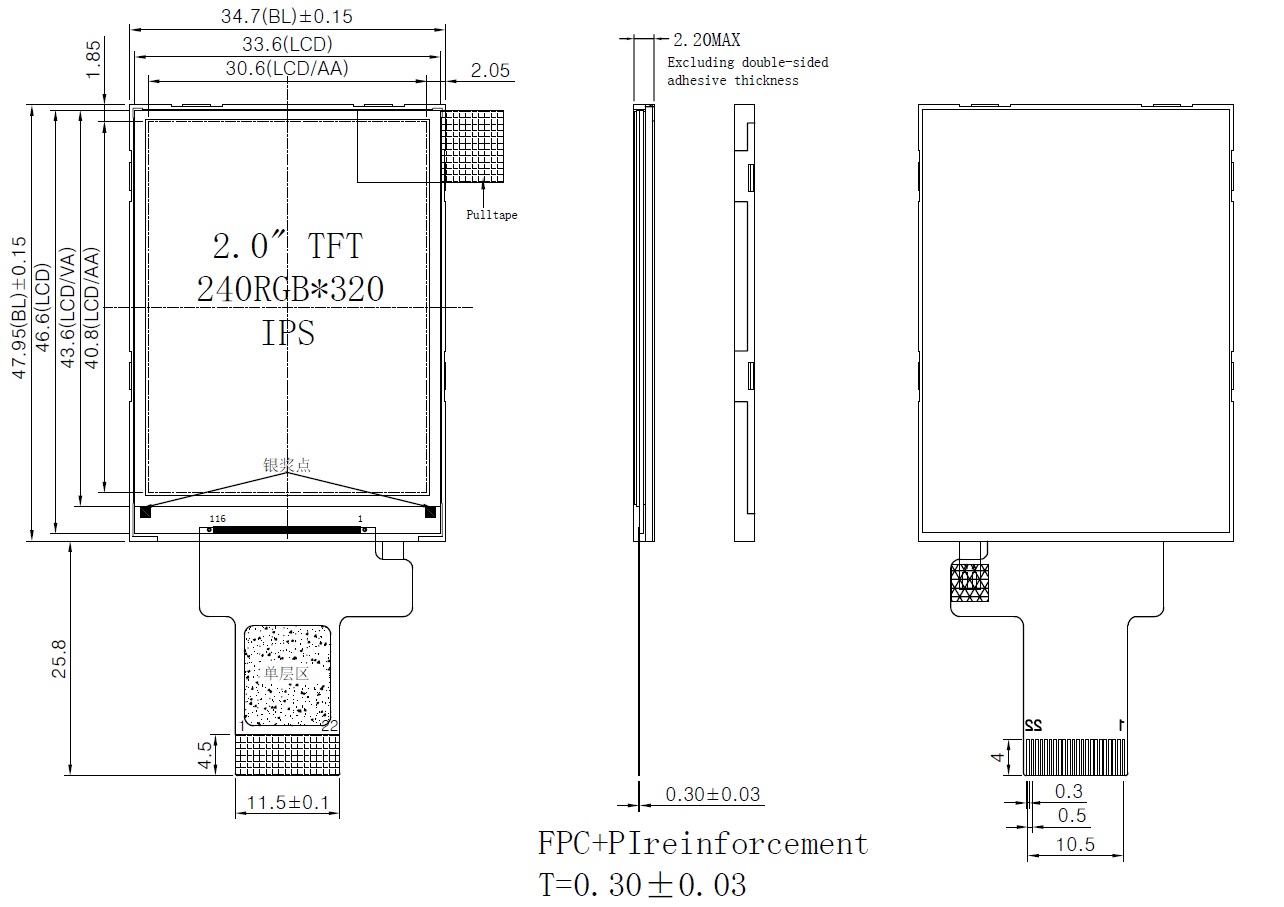 More for this 2.0" TFT LCD
This 2.0 inch TFT LCD shield consists of a 2.0" IPS panel with a-Si TFTs, an ST7789V IC controller, MCU/SPI interface, an FPC cable connector, and 4 LEDs as backlight.
Display Effect
The IPS TFT display is the most expansive use of TFT LCDs comparing TN-TFT and VA-TFT. Because it has high color production, fast response time, and wide viewing angle. For example, Apple Inc. still used an IPS LCD Shield for iPhone 11.
Choose this 2.0" TFT LCD and experience high color production, fast response time, and a wide viewing angle. It is suitable for portable, handheld applications or devices requiring a mini color screen.
With its high resolution of 320×240 and a contrast ratio of 800:1, you can see sharp and clear images every time.
The 3ms response time eliminates ghosting and blurring, providing a smooth and seamless viewing experience.
The brightness of 380 Nits enhances the viewing experience and makes colors appear more vivid and sharper. Additionally, this can reduce eye strain during extended use, too.
Other Benefits
Thanks to the easy-to-use MCU interface and well-documented ST7789S IC controller, engineers can quickly develop and debug the program with Arduino or Raspberry Pi.
FPC cables are easily molded, folded, and shaped to meet the specific requirements of different devices. Manufacturers can easily integrate the display into their products.
The FPC cable saves space for small appliances, such as smartwatches, portable electronic products, etc.
You can add a capacitive or resistive touch screen (cheaper) to provide an interactive and intuitive way to control the device. So, your product has no additional buttons or a separate input device. That can give the product a seamless and clean look and enhances the user experience.
Your Requirement?
If you're looking for a mini color display for portable or handheld applications, this 2.0'' TFT LCD is an excellent choice.
And if you have specific requirements, our team is always here to help.
Contact us at [email protected] for custom TFT display solutions.