This 20×2 LCD display is a character LCD Module with FSTN/STN panel / 20×2 Characters / Parallel, SPI or I2C Interface / HD44780 or Equivalents IC / COB.
The high quality, low price product is always our long-term goal.
Technical Details
Download Product References Below
Product Datasheet: GFC2002NT
Control IC Datasheet: HD44780 or Equivalents
| | |
| --- | --- |
| Model / Series Name | GFC2002NT |
| LCD Type | FSTN/STN |
| Display Format | 20×2 Characters |
| Module Size WxHxD (mm) | 116.00 x 35.00 x 12.80 |
| LCD Active Area WxH (mm) | 73.50 x 11.50 |
| Character Size (mm) | 3.20 x 5.55 |
| Control IC | HD44780 or Equivalents:SPLC780, AIP31066, KS0066, RW1063 for SPI and I2C Interface |
| IC Package Type | COB |
| Interface Type | 6800 4-bit Parallel , 6800 8-bit Parallel, SPI, I2C |
| LED Backlight Color | Blue / White / Yellow-Green / Grey |
| Viewing Direction | 6:00 |
| Display Type | Positive or Negative |
| Logic Power Supply Voltage | 3.3V/5V |
| Operating Temperature | -20 ~ +70ºC |
| Storage Temperature | -30 ~ +80ºC |
20×2 lcd display datasheet
20×2 lcd display pinout Library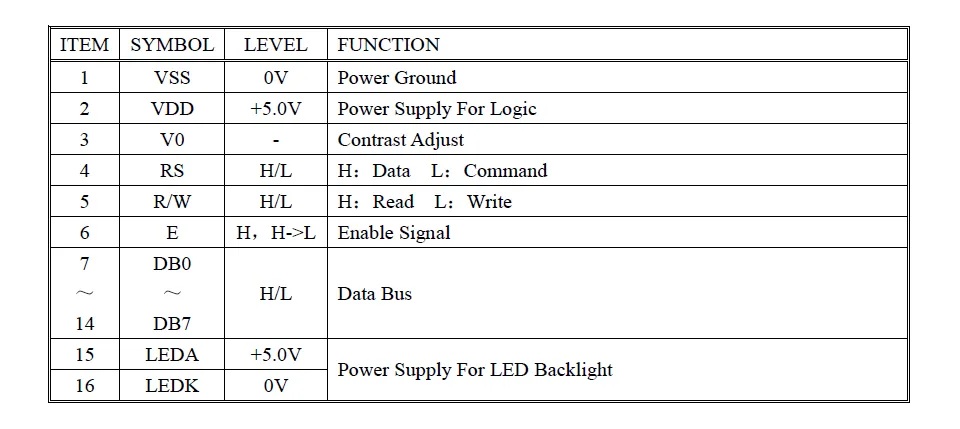 Your Requirement?
This is just one of our popular character LCD Modules; In Go2Display, you can find more color displays like TFT displays and OLED displays.
If none of these part numbers meet your requirements in any term, contact us([email protected]), who are willing to work with you.
More Details
This 20×2 LCD display module consists of a 20×2 charactors screen with FSTN/STN panel, a built-in IC controller, 6800 4-bit/8-bit Parallel interface, PCB.
This character display is a passive matrix LCD (liquid crystal display) available in FSTN or STN panels. The LCD screen can show text with 20 characters by 2 lines.
This 20×2 LCD Display Module is an easy-to-use display module for your Arduino or Raspberry PI project. Its built-in controller can be easily connected to your Arduino board using standard I2C communication.
It is perfect for displaying text or numerical data. That makes projects more visually appealing.
This module allows you to easily create custom text, including English/Japanese, English/West European, English/Scandinavian European, or English/Cyrillic (Russian) options.
The COB (Chip On Board) design contains all components onto a single board. So it can reduce up to 40% less space than traditional designs. That is suitable for the limited-space application.
Additionally, workers can quickly assemble COB character LCDs due to their fewer components. This design also makes the LCDs more reliable, as the parts are better protected and are less likely to be damaged.
The LED backlight provides multiple color options (Blue/Yellow-Green/Grey/White/Red). Plus, with optional positive or negative display types, you can choose any combination to match your design needs.
The module also features a wide operating temperature range of -20 to +70 °C.