This 20×4 Character LCD display is an LCD Module with FSTN/STN panel / 20×4 Characters Screen / I2C Interface / RW1063 Controller IC / COB.
The high quality, low price product is always our long-term goal.
Technical Details
Download Product References Below
Product Datasheet: GFC2004NT
Control IC Datasheet: RW1063
| | |
| --- | --- |
| Model / Series Name | GFC2004NT |
| LCD Type | FSTN/STN |
| Display Format | 20×4 Characters |
| Module Size WxHxD (mm) | 146.00 x 62.50 x 9.20 |
| LCD Active Area WxH (mm) | 118.84 x 38.47 |
| Character Size (mm) | 4.84 x 9.22 |
| Control IC | RW1063 |
| IC Package Type | COB |
| Interface Type | I2C, Parallel, SPI |
| LED Backlight Color | Blue / Yellow-Green / Grey |
| Viewing Direction | 6:00 |
| Display Type | Positive or Negative |
| Logic Power Supply Voltage | 3.3V/5V |
| Operating Temperature | -20 ~ +70ºC |
| Storage Temperature | -30 ~ +80ºC |
20×4 Character LCD Display Datasheet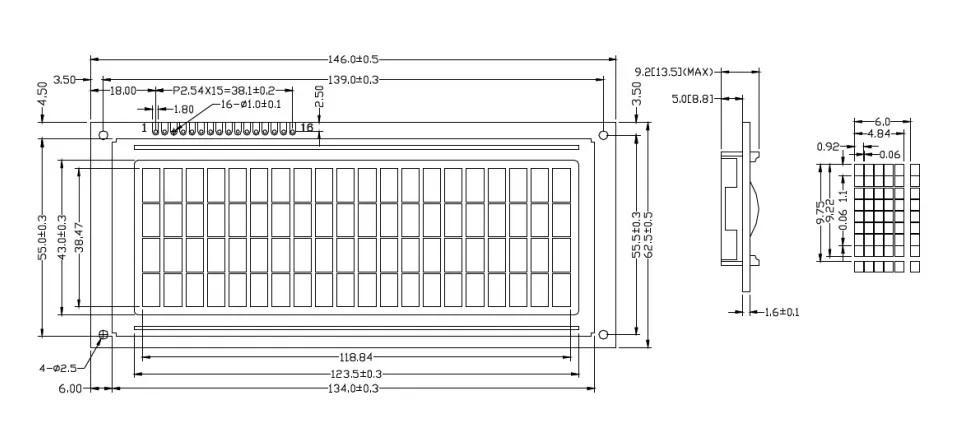 20×4 LCD Display Pinout Tutorial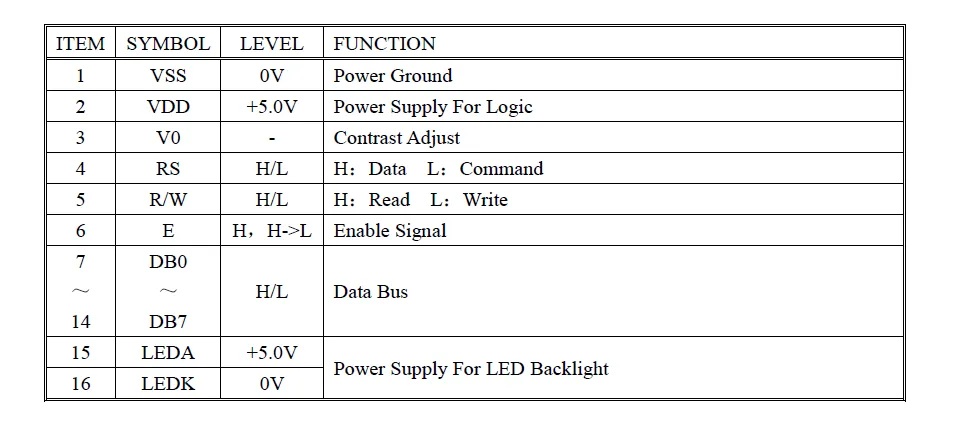 Your Requirement?
This 20×4 character LCD Display Module is suitable for projects that require many characters.
If you want a smaller one, the 16×2 character LCD is a great option, with its 16 columns and 2 rows of screen space.
Or you can find some full color TFT displays for a complex project or application.
We always await your contact, whether you're looking for a standard display or a custom solution。([email protected])
More Details
This 20×4 Character LCD display module consists of a 20×4 LCD screen with FSTN/STN panel, a built-in IC controller, I2C interface, PCB.
This character LCD Display Module can show 20 Columns and 4 Rows. That allows you to display up to 80 characters at once on the screen. Additionally, It features a low price and ease of use. Therefore, it is a popular choice for hobbyists and professionals.
Whether it's letters, numbers, or custom characters, this display can handle them all, like English/Japanese, English/West European, English/Scandinavian European, or English/Cyrillic (Russian).
With its customizable backlight option, you can have one in a special backlight color, like green, blue or, grey. However, they have the same technical specifications and circuits. You can use the same code in your project with a custom backlight.
Its built-in controller can be easily connected to your Arduino board using a standard I2C Interface.
The COB (Chip On Board) design contains all components onto a single board. That is suitable for the limited-space application.