This 5 inch Round LCD display is a TFT display Module with IPS panel  / 1080×1080 Resolution / Contrast ratio of 1300:1 / Optional Cpacitive Touchscreen / MIPI Interface / HX8399C Driver IC / COG Package.
The high quality, low price product is always our long-term goal.
Technical Details
Download Product References Below
Product Datasheet: GFC10801080-5INTM
Driver Datasheet: HX8399C
| | |
| --- | --- |
| Model / Series Name | GFC10801080-5INTM |
| Diagonal Dimension (Inches) | 5.0 |
| Dots WxH | 1080 x 1080 |
| Module Size WxHxD (mm) | 136.53 x 132.21 x 1.98 |
| LCD Active Area WxHxD (mm) | 127.01 x 127.01 |
| Display Mode | IPS, Transmissive, Normal black |
| Display Colors | 16.7M |
| Viewing Angle | 160 degrees |
| Contrast Ratio | 1300:1 |
| IC | HX8399C from Himax |
| Interface Type | 50 pinouts MIPI Interface |
| Backlight | LEDs |
| Luminance | 350 cd/m2 |
| Touch Panel | None or Optional CTP (Capacitive Touch Panel) |
| Operating Temperature | -20 ~ 70 °C |
| Storage Temperature | -30 ~ 85 °C |
Details of this 5 Inch Round LCD Display
This 5 Inch Round LCD Display is a full-color TFT display. It is perfect for applications that need a round display with accurate color reproduction and wide viewing angles.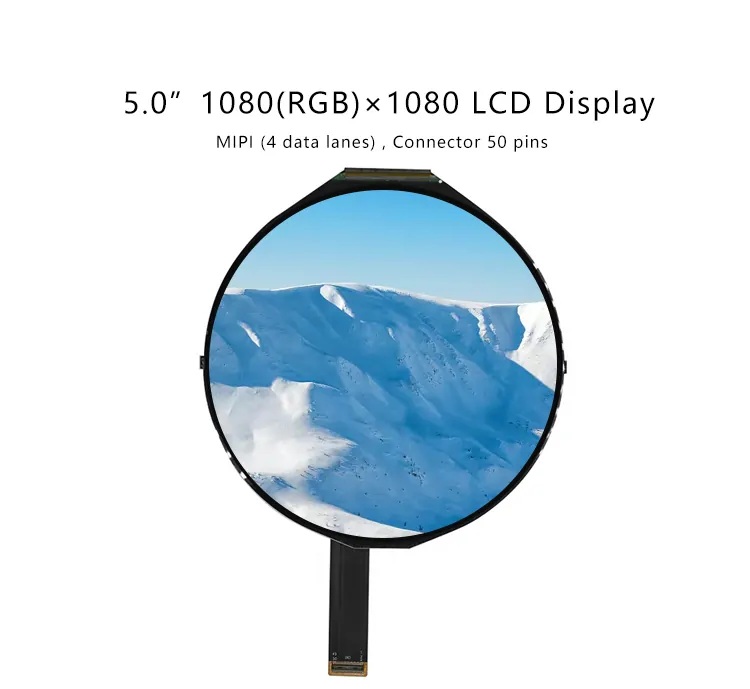 It has a high resolution (1080 x 1080) and a contrast ratio (1300:1). This makes the graphics on the screen look sharp and detailed.
Meanwhile, it can show a wide range of colors (16.7 M). Then, we can see more natural and clear images.
The IPS panel technology gives a wide viewing angle (160 degrees). Thus, the screen is always the same from any side.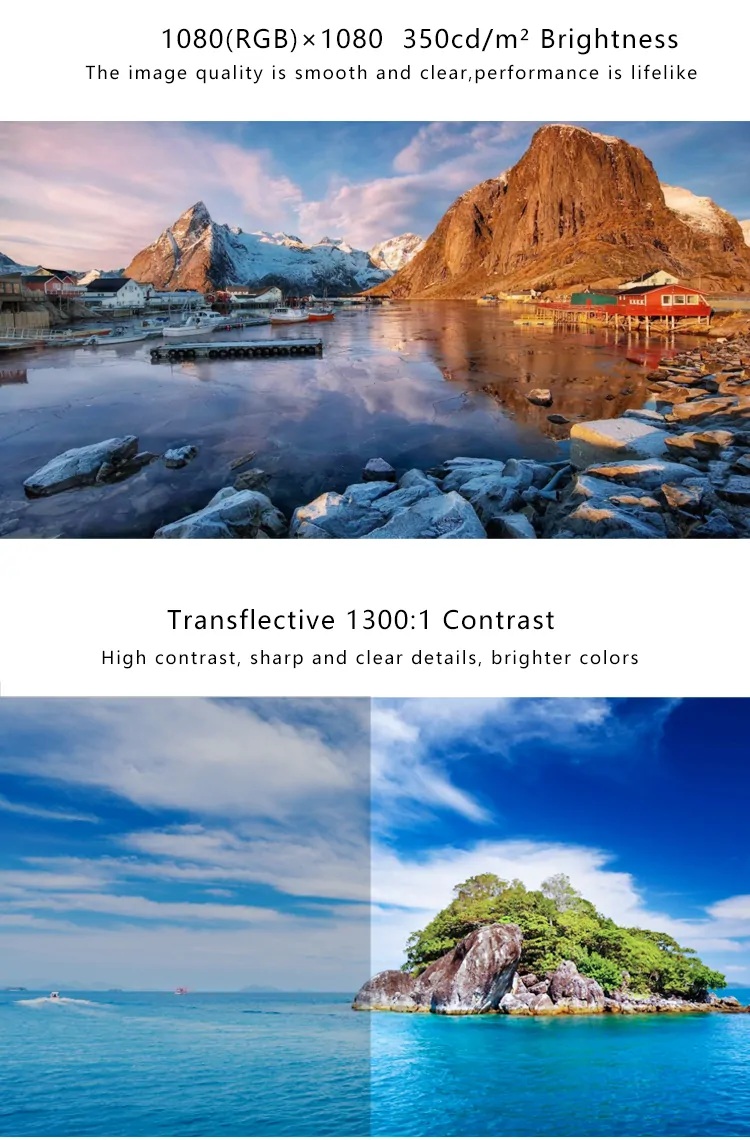 The HX8399C driver IC from Himax can control and manage the colors in a stable, high-performance way.
It has a standard MIPI interface and a small COG package, making it easy to put into many devices.
An additional capacitive touchscreen panel (CTP) allows multi-touch input and interaction. Some applications need a round touchscreen to run.
This round LCD screen has a luminance of 350 nits. Then, users can easily see even in bright light, and it prevents screen glare.
It can work in temperatures from -20 to 70 °C and be stored from -30 to 85 °C. That is why many devices use it as their display solution.
Your Requirement?
This 5-inch round LCD display features
high picture quality,
vivid color reproduction,
high resolution,
wide viewing angles,
optional touch interaction,
and small size.
Therefore, many applications will use it as their circular display solution, like
industrial control systems,
medical equipment,
automotive displays,
smart mirrors, and more.
If none of its parameters fit the needs of your project, we can still make a custom TFT display solution for your unique product.
Just contact us ([email protected]) to talk about your project, and we'll help you figure out what your options are.